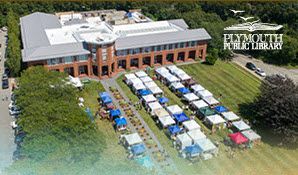 New this year, sponsored by Modern Metal Design, is "Art under Creation," an interactive exhibit that offersvisitors the opportunity to witness artists bring their visions to life.
Auxiliary parking with shuttle service is available at nearby parking lots.
Festival proceeds assist the Plymouth Public Library Foundation in providing the Library with technology and landscaping improvements, support the Library's Literacy Program of Greater Plymouth and also fund its many cultural, artistic and educational programs.
Our 2023 lead sponsor: Town of Plymouth Promotions Fund.